Sell insurance policy at up to 10% above surrender value!
We will consider giving a quotation if the status of following types of insurance policies are as follows: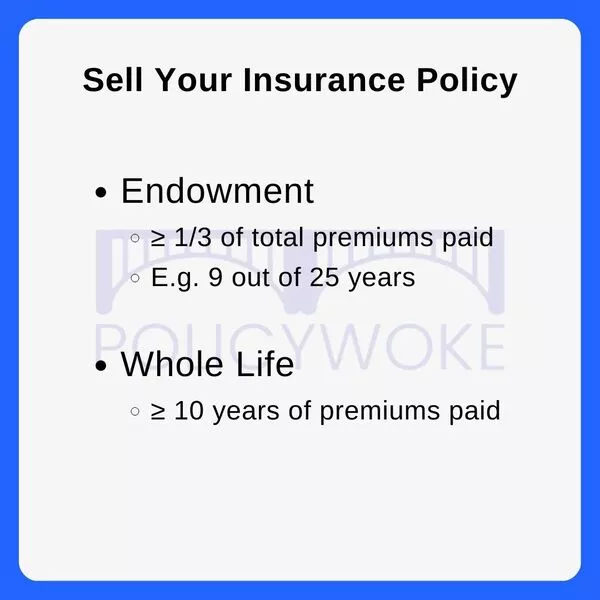 Can You Sell a Life Insurance Policy, if Status is Not Met?
If your insurance policy does not meet the above-mentioned status, you can still submit your policy information, just that the chances of us being able to give a quotation would be slim.
You can either submit your policy information yourself as a policy-owner, or contact your servicing financial advisor to do so on your behalf.
If you are unsure of the fields we need, contact your servicing financial advisor, login to your online account or contact the insurer hotline.
Should You Sell Your Life Insurance Policy?
Please consult your financial advisor before deciding on whether to sell life insurance policy. With that, we are the best company to sell your life insurance policy to, because we care about your finances.
Raising funds for your business?
Reviews
Process Flow
How to sell insurance in Singapore?
After accepting a quotation, the basic process flow for policy buy back is as follows:
For each insurance policy, we will email you a copy of Assignment-in Form for your e-signing.
After e-signing in [1], we will book an appointment to meetup at the insurance company's customer service centre.
On appointment day, we will proceed to enter the customer service centre to do the absolute assignment paperwork.
After the paperwork in [3] is done, we will transfer funds via PayNow to your bank account based on the quotation. Please wait 1 to 2 weeks for the insurance company to complete the absolute assignment process on their backend. By then, you will receive a letter from the insurance company on the absolute assignment completion.
Frequently-asked Questions